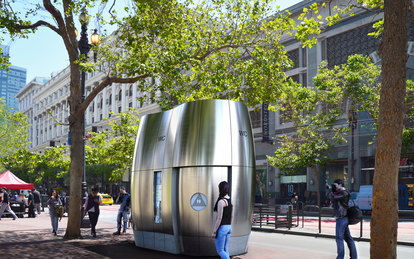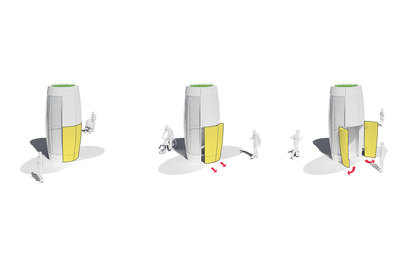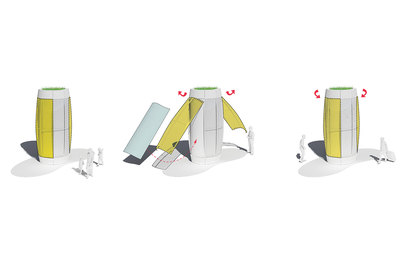 The San Francisco Department of Public Works (DPW) held a design competition calling for the conceptualization of industrial art that would double as toilets. SmithGroup's AmeniTREES entry of both toilets and kiosks with a green-tech vibe won the competition with a design looking to change how the public utilizes these amenities, while reflecting the city's character and identity .  
Client
San Francisco Department of Public Works
Location
San Francisco, California
Markets/Services
Sustainable Design, Urban Design, Urban Parks & Public Spaces
Simplicity in its Kit of Parts
The AmeniTREES are designed as a kit of parts for ease in buildability and maintenance. The pavilions' unique sculptural shape displays a sense of complexity, yet, the kit of parts assembly is simple having been composed of repeated and rotated panels.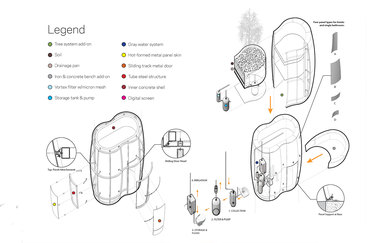 This concept limits the number of exterior panel variations providing cost saving opportunities. In addition, the advertising kiosks inner shell is a flat base with a bent surface for static or digital advertising. The exterior shell for the structure consists of a glass and metal skin to give the iconic pavilion shape while protecting the technology within from both the elements and curious visitors.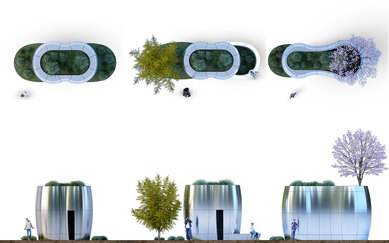 Variations for a City of Unique Neighborhoods
New structures are iconic in their design and adaptability – transforming to varied site needs. Developing these design alternatives, along with the incorporation of varied native grasses and trees, allow for a cohesive collection of pavilions that are as varied as San Francisco's neighborhoods.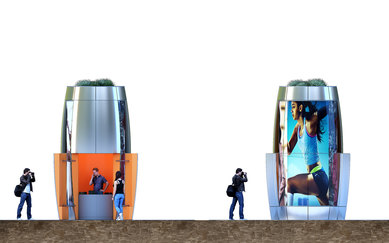 A Water Story
The pavilion design tells a story of sustainability and conservation, an intentional narrative that is very much of San Francisco. The many variations of the pavilion design creates an opportunity for water collection, treatment and reuse.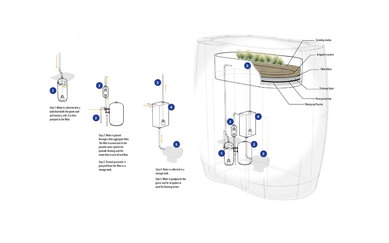 The kiosks can be engineered to collect rainwater, when it rains, and runoff to wash the units, water the vegetation or flush toilets. Each of these features work together to minimize reliance on the city's potable water – an important feature for water-conscious San Franciscans.