Veterans Affairs Portland Outpatient Clinic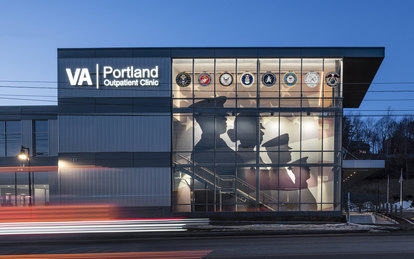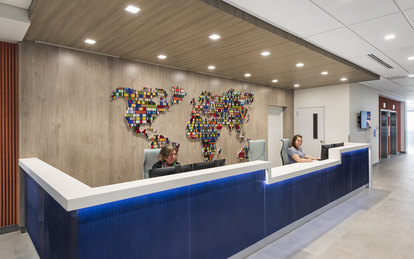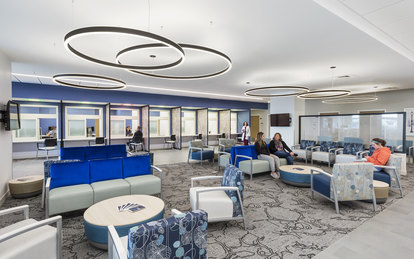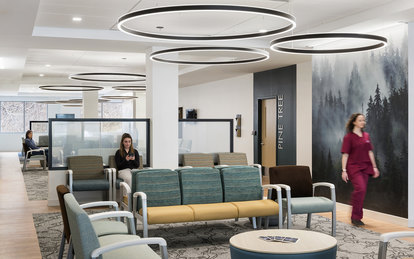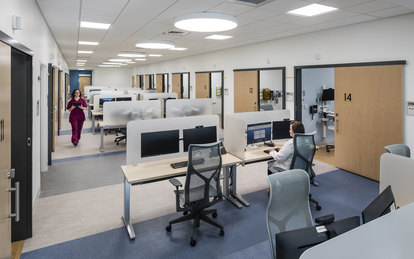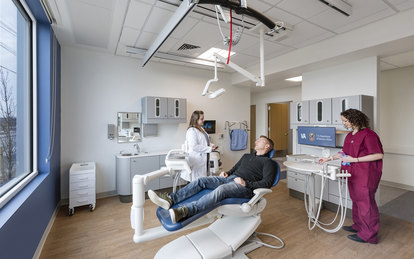 A comprehensive outpatient medical center exceeds VA guidelines with a facility that honors veterans and responds to their needs, while also reflecting the hard-working, nautical heritage of this port city.
Client
U.S. Department of Veterans Affairs
Location
Portland, Maine
Markets/Services
Ambulatory Care, Government Health, Health
Size
70,000 SF
The Department of Veterans Affairs recognized a need for a larger, more accessible community-based outpatient care facility to serve veterans throughout the southern seacoast region. The new facility moves services outside the busy downtown area to a waterfront site along a main route into the city of Portland.
The two-story VA Outpatient Center provides enhanced patient access and significantly more space for a range of outpatient care services tailored to veterans. Aligned on a narrow site, the building capitalizes on views of Portland Harbor and the Fore River, embracing its nautical context.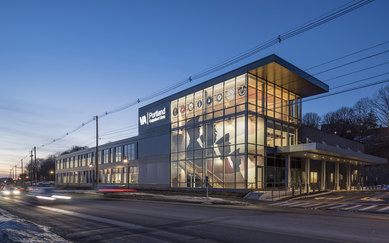 A two-story glass cube, adorned with graphics of service members, creates a bold entrance to the site. A landscaped plaza with a drop-off circle links the main entrance with an adjacent three-story parking garage. The parking garage is a departure from VA design standards but provides easier access into the medical center on such a linear site. The clinical spaces use the VA's Patient Aligned Care Team (PACT) template for all outpatient services, including cardiology, radiology, mental health, rehabilitation, audiology, podiatry, and a pharmacy/laboratory.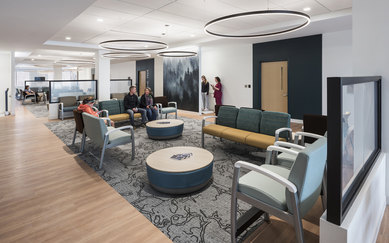 Design elements were specifically selected with the sensitivities of veterans in mind. The interior is open and airy, bathed in natural light with soothing water views and particular clarity for entrances and exits. The plaza provides gathering areas for veterans who may wish to connect with one another. The overall environment creates a calm, comforting place of refuge, serving veterans and honoring their service.