SmithGroup and AECOM Celebrate the Groundbreaking of the New Louisville VA Medical Center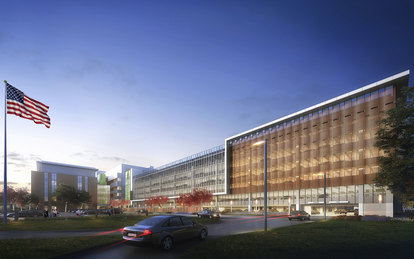 SmithGroup, one of the nation's leading integrated design firms, and AECOM, the world's most trusted infrastructure consulting firm, celebrate the groundbreaking of the new VA Medical Center in Louisville, Kentucky. The firms join the U.S. Department of Veterans Affairs (VA) and the U.S. Army Corps of Engineers (USACE), Louisville District, to commemorate this milestone. With an area of over 972,000 square feet, the new $840 million medical center will replace the existing Robley Rex VA Medical Center.
The Louisville VA Medical Center will serve a population of more than 150,000 in Kentucky and southern Indiana, emphasizing a comprehensive approach to health by incorporating inpatient and outpatient services for expanded access to primary care, specialty, surgical, and mental health services. The 34-acre campus includes two parking structures, a central utility plant, and other site amenities. The Louisville VA Medical Center is anticipated to be completed in 2026.
"The design of the new medical center represents a journey of healing with honor," said Cindy Pozolo, SmithGroup's project manager and a principal at the firm's Detroit office. "The landscape and the architecture echo the strength and courage of the people who have served our country with distinction."
The new Louisville VA Medical Center has previously been recognized by the American Institute of Architects (AIA) Academy of Architecture for Health (AAH) and the Michigan Chapter of the AIA for its exceptional design. The architecture of the new medical center integrates a focus on sustainability, relationships to nature, symbolism intrinsic to military life.
The facades of the medical center feature vertical patterning of metal panels and curtainwall, inspired by the colorful regalia of military ribbons, while horizontal striations reference the similar natural layering of limestone found in the surrounding Kentucky hills. The concourse and gardens are divided into four areas representing the milestones of a veteran's service: join, bond, honor and thank. The pair of parking structures are screened in copper-colored bowed and wire mesh panels, which frame a perforated screen emblazoned with a patriotic theme.
"Its an honor to celebrate this groundbreaking on Veterans Day. Our entire design team acknowledges what a privilege it has been to work on this state-of-the-art healthcare facility," said Randy Kirschner, AECOM's project manager and a principal in its Columbus office. "We're immensely proud to serve the VA and USACE with integrated architecture and engineering services to help delivery a new medical center that will be of lasting benefit to our veterans for years to come."
The Louisville VA Medical Center is designed to comply with the Government's Guiding Principles for Sustainable Federal Buildings. It will include a large photovoltaic array that generates a portion of the center's electrical energy, green roofs, water use reduction, and optimized energy performance. The biophilic design intertwines architecture and landscape emphasizing the importance of nature in health and wellness. Key elements include terraces, ample green spaces, a contemplative courtyard, and a linear garden the sweeps the length of the center, connecting to a light-filled indoor concourse that joins a range of spaces with uses such as education, ceremony, dining and respite.
With SmithGroup serving as primary design architect and AECOM serving as primary engineer, the joint venture firms collaborated closely to provide project management, architecture, interior architecture, medical planning, landscape architecture, and civil, structural, and MEP engineering during the design phases and will continue to provide services throughout the construction period.
URS/SmithGroup Joint Venture was formed in 2007 to provide integrated design services for the Louisville VA Medical Center project. AECOM acquired URS Corporation in 2014.
For more information about SmithGroup, please visit our Company Fact Sheet.
AECOM is the world's trusted infrastructure consulting firm, delivering professional services throughout the project lifecycle – from planning, design and engineering to program and construction management. On projects spanning transportation, buildings, water, new energy and the environment, our public- and private-sector clients trust us to solve their most complex challenges. Our teams are driven by a common purpose to deliver a better world through our unrivaled technical expertise and innovation, a culture of equity, diversity and inclusion, and a commitment to environmental, social and governance priorities. AECOM is a Fortune 500 firm and its Professional Services business had revenue of $13.2 billion in fiscal year 2020. See how we are delivering sustainable legacies for generations to come at aecom.com and @AECOM.